Family Tradition
We maintain the knowledge transmitted from generation to generation to get the best peppers and figs in the area.
Factories connected to the field
Our facilities are located in the region of La Vera, in order to stay as close as possible to the products.
The best quality at the best price
The most modern machinery in the sector equipped with the latest technologies.
Nature
We work in a privileged enclave: natural water soaks our fields, a microclimate softens the temperatures and the fertility of the soil is amazing.
Grupo de la Vera is a company located in the regios of La Vera.This place is a privileged enclave where water and the microclimate play a very important role. This makes the soil have an amazing fertility, giving rise to products with a great quality.
Therefore, that the Grupo de la Vera has a great tradition. Furthermore, thanks to the transmission of knowledge from generation to generation, the DelaVera company has obtained the best peppers and figs in the region. For this reason, the Grupo de la Vera presents two brands. On the one hand there is El Rey de la Vera, which groups together products based on peppers, and on the other hand there is La Dama de la Vera, which are products made from figs.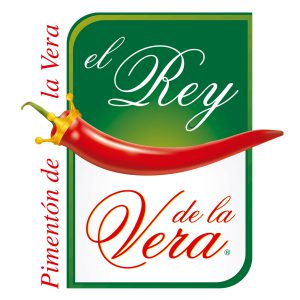 The distribution of paprika and peppers is in the hands of our brand El Rey de la Vera. Its production exceeds 500 tons of product per year and maintains constant exports to the United States, Europe and the Arab Emirates, as well as Australia. These data make it a reference brand in Spain.
Figs are distributed by La Dama de la Vera. This brand sells its products mainly in Portugal and throughout Spain. It also exports to the United States, Germany, the United Kingdom, the Netherlands, the United Arab Emirates and Japan. It has a turnover of over one million kilos per year, making it the leading brand in Spain
100 years producing paprika
LA VERA
This Natural Paradise, located in the heart of northern Extremadura, is the birthplace of Sanmel S.L. and Productos Biovera S.L.
The 50 plentiful gorges and pools of crystalline water are the most characteristic natural element of La Vera.
This superior quality water has blessed the green valleys where it flows from the Sierra de Tormantos to its mouth in the Tiétar River.
Along with such natural water, the abundant vegetation and the adjacent mountains ensure that La Vera boasts an exceptional microclimate for cultivation.
A land consecrated by nature.