The dried fig is the product par excellence marketed by La Dama de la Vera. Originally from the Mediterranean region, the fig has been a delicacy for many cultures throughout history due to its select and sweet flavour.
They are born from one of the most appreciated varieties of the family: El Higo Blanco, which is distinguished by its fine and delicate skin, as well as by the intense sweetness of its flavour: the Cuello de Dama fig.
Figs were already a widespread food in Egypt more than 10,000 years ago. It is said that it was Cleopatra's favourite food. Known as "the fruit of the philosophers", Platón based his diet on dried figs.
Today, they are increasingly in demand in the Mediterranean Diet because of their extraordinary health benefits.
LA DAMA DE LA VERA
The distribution of figs is in the hands of our brand La Dama de la Vera. This firm has a turnover of over one million kilos a year, making it the leading brand in Spain.
They are a highly recommended fruit in all types of natural and healthy diets due to their beneficial properties:
High fibre content: facilitates intestinal transit.
Excellent source of energy of rapid assimilation.
Regulates cholesterol and glucose in the blood.
Source of potassium: helps to promote blood circulation.
High content of omega 3 and 6.
Aphrodisiac properties: increases the production of sexual hormones.
The entire process of treating the fig is subject to rigorous quality controls, from its entry into the warehouse to its packaging or transformation.
Analysis, sampling and continuous controls take place at each stage, both in the La Dama de la Vera laboratory and in other official laboratories.
The result is a very careful product of excellent quality. 
This is why we are leaders in Spain.
La Dama de la Vera holds the IFS Food International Compliance Certificate, related to food safety and quality.
The International Featured Standards are international standards focused on food, products and services.These standards guarantee the compliance of safety standards of the products that are sold and their corresponding quality control.
This is why La Dama de la Vera is assured of the quality, safety and reliability of all its products.
La Dama de la Vera: leader in
Spain
in sale of dried figs
Types of figs and packaging
One of the most appreciated types of dried fig on the market is the fig: Cuello de Dama. This variety is the one that we most sell in La Dama de la Vera, as they are figs of excellent quality, tender, with an intense sweetness, which have a very thin skin and few seeds. Cuello de Dama figs are also subdivided into different categories: Primera Category and Extra Category.
Similarly, in our catalogue we have Del Pais dried figs, which include the Calabacita (Pajarero) and Granito varieties, which are smaller in size but of high quality. They are sweet, with thin skin and mellow flesh.
PACKAGING
The product is packaged in bags of different sizes: 250 g, 400 g, 500 g, 600 g and 1 kg.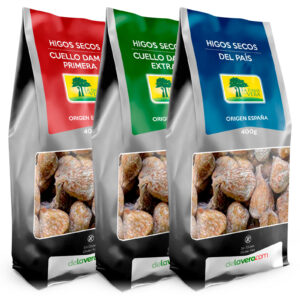 Our creative inquisitiveness has drove us to experiment and develop new flavours, alternative recipes and delicious combinations. Today, our specialities are very successful in the market: fruit breads, fig and walnut, chocolate fig bonbon, fig and dried pitted apricot trays, chocolate-covered figs and nuts and fig cubes covered with coconut.
Fig and dried pitted apricot trays
We do not cease in our constant search for new and exotic flavours. We present you two products, whose main base is the fig, which are receiving sensational valuations in the market: the chocolate fig bonbon and the energy bars.